how to stake Cardano
Staking Help Line 1-239-771-0315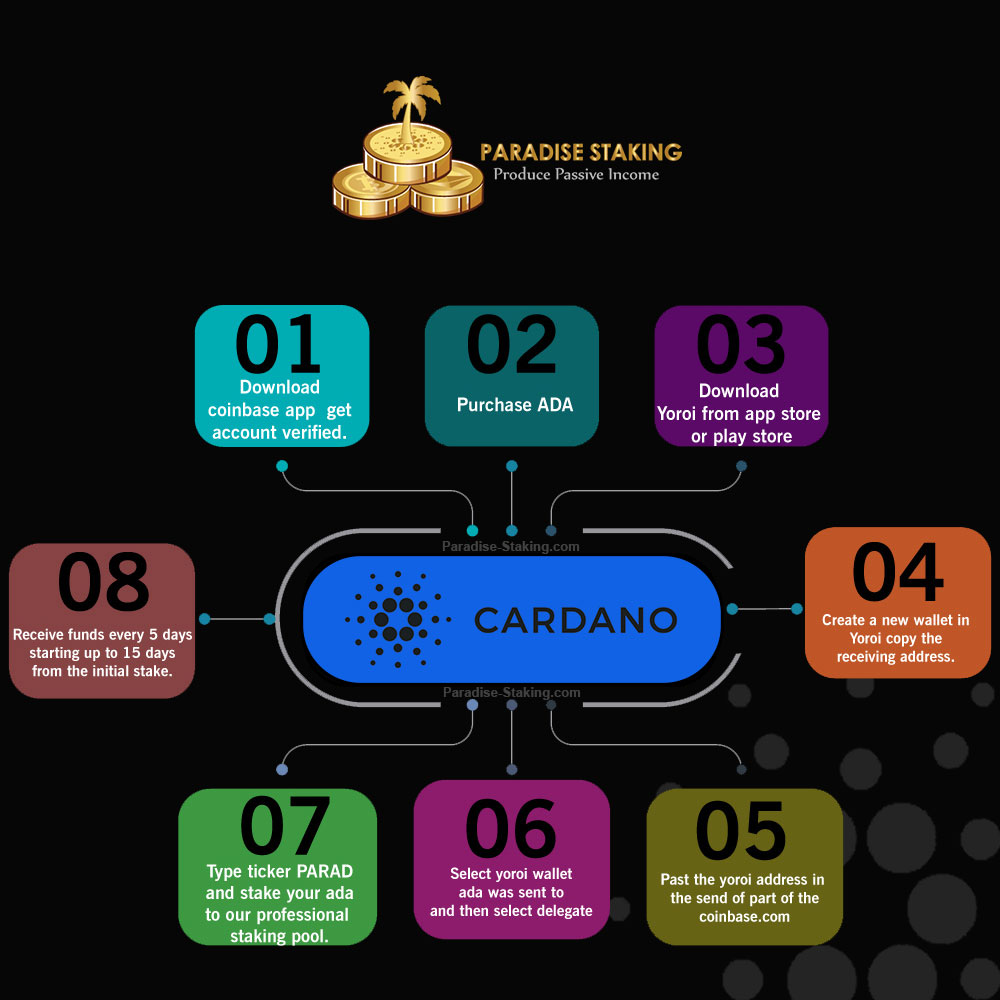 What is Staking?
Line mining bitcoin but much better.  Bitcoin secures the bitcoin network with high-powered computes running a mining algorithm.   Bitcoin pays bitcoin to the miners for each bitcoin block completed with the remaining bitcoins and transaction fees.  Cardano created a new mining algorithm that is just as secure but used proof of stake.  Paradise Staking run this new algorithm on their high-end servers called a node to solve blocks on the Cardano blockchain.  Cardano pays the nodes with the remaining Cardano coins and fees from the network.  
Nodes Explained
In a proof-of-stake blockchain, like that used by Cardano, verification is done through node selection. Each new block of the blockchain needs to be added to a node. The algorithm selects which node will be used next based in part on how many coins the node has staked, or locked away. 
Nodes often comprise groups of people who have pooled their stakes together. By joining a node, you lock your ADA coins away in a node. The more coins are locked away, the higher the node's chances of producing blocks. When blocks are produced, the node earns rewards that are then paid out to all the pool contributors.
ADA Coins
The ADA coins used for staking never leave your wallet. While staking, you earn rewards in a way that is similar to interest in a savings account. You can move or unstake your coins at any time.
Staking is appealing to many investors as it is a form of passive income. Additionally, you are also making the blockchain faster and more stable.
How to Stake Cardano
Step 1 if you don't already have Cardano ADA,  ADA is the Cardano main coin that you will use in staking. 
Purchase Cardano ADA
Purchase them from Coinbase.com or Crypto.com  use these links to get $10 credit.    
Next, you will need a staking wallet
Select a wallet you want to use, personally, I use Yoroi as it has a phone app too.  
Wallet
Details
Link
   

Yoroi Wallet 

Yoroi is a light wallet for Cardano. It's simple, fast, and secure. Made by EMURGO.

Offers a Phone app you can import the same wallet into so you can manage on the go. 

Link 

Typhon

Your gateway to the universe of CNTs and crypto—that incorporates a DEX, a DAO, incredible staking benefits and more.
Link

Nami Wallet

A wallet to experience Cardano to the fullest
Link

GeroWallet

Start exploring the possibilities of Cardano. Purchase, send, and receive ADA – the cryptocurrency for Cardano.
Link

AdaLite Wallet

A lightweight, in-browser wallet for Cardano. Trezor & Ledger support. Staking.
Link

C64 Wallet is a community light wallet that provides a sovereign, customized experience for Cardano users and devs.
Link
Create your wallet. 
Open your wallet and you can either import an existing wallet or create a new one.  If you create a new one make sure to write down your passphrase as it is a one-time list of words that can be used to restore your wallet in the event your device crashes or is lost.  Please make sure to keep it in a secure location and tip, write down what wallet it is for if you have multiple wallets.   to learn more about wallets see this link.  What is a wallet?
Note:
Many wallets offer staking services but the most secure way to stake is to stake in one of the above staking wallets as you own your keys and the first rule of crypto is not your keys not your crypto. For example, if you stake on an exchange and something happens to that exchange you don't have control of your funds so this is why we recommend you to use one of the above staking wallets. 
Transfer your ADA to your staking wallet.
Once you have your cardano ADA in the purchasing wallet (coinbase or crypto.com) select send and send a small test amount to the receive address in your new Cardano staking wallet.